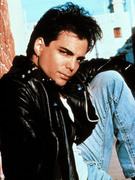 Dennis Booker is a character from the 21 Jump Street show.  He was potrayed by Richard Grieco. Grieco resprises his role for a cameo during the end credits of 22 Jump Street in the mock sequel entitled Jump Street: Generations. The sequel also stars Dustin Nguyen (who portrayed Harry Truman Ioki on the TV series) although he only appears on the poster. Nguyen, however, did have a cameo as Vietnamese Jesus during Jenko and Schmidt's WHYPHY trip where he appeared on Jenko's "good" side of the trip. 
In 1989, Dennis Booker became the main character of the TV series Booker, a spin-off of 21 Jump Street.
Gallery
Ad blocker interference detected!
Wikia is a free-to-use site that makes money from advertising. We have a modified experience for viewers using ad blockers

Wikia is not accessible if you've made further modifications. Remove the custom ad blocker rule(s) and the page will load as expected.