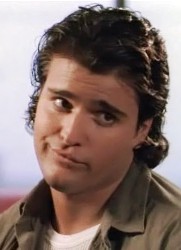 Status: Deceased Died: 2012 Doug Penhall's first impression was one of muscle over mind. On the job though, Penhall proved to be the heart of Jump Street. Whether as the other half of the McQuaid Brothers or working back up at the Rocket Dog (the hot dog joint Penhall dubbed "the attack dog...because 20 minutes later..."), Penhall was an invaluable partner to Hanson. Always quick with a joke, Penhall could give the impression that his demeanor masked a deeper sadness perhaps even with a family tragedy seen in later seasons. Hanson and Penhall became best-friends.
Officer Penhall and Tom Hanson were shot and killed in the film of 2012 by a drug dealer during the movie.
He was the secondary protagonist of the t.v. series and made an uncredited cameo in the film.
In a deleted scene,Doug and Tom Hanson prove to have survived being shot.
Ad blocker interference detected!
Wikia is a free-to-use site that makes money from advertising. We have a modified experience for viewers using ad blockers

Wikia is not accessible if you've made further modifications. Remove the custom ad blocker rule(s) and the page will load as expected.