"Oh my God! You're like two Hardy Boys in one!" Ms. Griggs to Jenko during the end credits.'
Ms. Griggs is a teacher that appears in 21 Jump Street (film) and has a crush on Greg Jenko.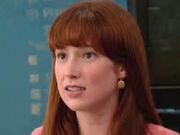 21 Jump Street Edit
22 Jump Street Edit
Ms. Griggs makes no appearance in the movie, nor was there any mention of her.
Ad blocker interference detected!
Wikia is a free-to-use site that makes money from advertising. We have a modified experience for viewers using ad blockers

Wikia is not accessible if you've made further modifications. Remove the custom ad blocker rule(s) and the page will load as expected.